To acknowledge Women's History Month, the law library wishes to note two significant achievements in Minnesota court history. The first was in 1991 when Minnesota was the first state in the nation to have a majority of women on its state supreme court. The second achievement is happening now in 2021, when the state's five appellate and executive courts now have women holding top positions.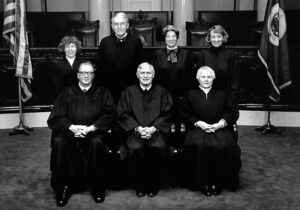 In 1991, Governor Rudy Perpich appointed Sandra Gardebring to the Minnesota Supreme Court. She joined three women on the court: Justice Rosalie E. Wahl; Justice M. Jeanne Coyne; and Justice Esther M. Tomljanovich (see above photo). With a seven-member court, the four women comprised a majority. While this majority wasn't maintained continuously over the intervening years, the current Minnesota Supreme Court also has a majority of women: Chief Justice Lorie Gildea; Justice Margaret H. Chutich; Justice Natalie Hudson; and Justice Anne K. McKeig (see photo below).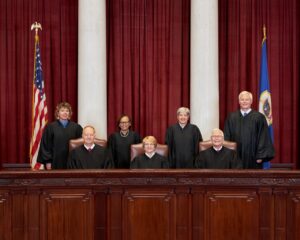 Minnesota State Supreme Court Chief Justice Lorie Gildea was recently joined by Judge Wendy S. Tien in a chief judge role. Chief Judge Tien leads the Minnesota Tax Court, effective March 17. However, other chief judges have been selected over the years to lead various courts. Now the state's five appellate and executive courts are all led by women. They include: Court of Appeals Chief Judge Susan Segal; Minnesota Office of Administrative Hearings Chief Judge Jenny Starr; and Minnesota Worker's Compensation Court of Appeals Chief Judge Patricia Milun.