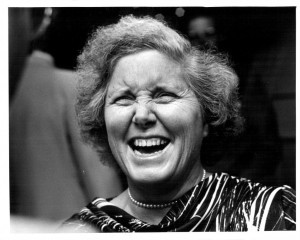 This week marked the passing of former Minnesota Supreme Court Justice Rosalie Wahl. She was appointed to the Minnesota Supreme Court in 1977 by Governor Rudy Perpich and served until 1994 (when she reached the mandatory retirement age of 70).
Her accomplishments are numerable and detailed in this Star Tribune feature. She was the mother of four when she enrolled at the William Mitchell College of Law in 1962 and the mother of five when she graduated in 1965. Her career included work as a public defender, a law professor, and a the pioneers of student-assisted law clinics. See the William Mitchell College of Law Tribute to Justice Wahl, and also read about a documentary film on the life of Justice Rosalie Wahl.
Her earliest history contains a detail of special interest. Wahl was born in 1924 in Gordon, Kansas. Her mother died when she was four years old, and her brother and father were killed before her eyes when she was eight. She was raised by her grandmother through the depths of the Great Depression. Now, according to this map of Butler County, Kansas from the Kansas Department of Transportation, the town of Gordon is less than 10 miles south of Augusta. The town of Augusta is noteworthy, because it became home to 3-year old Madelyn Payne and her family in about 1925. Ms. Payne later married Stanley Dunham, and is best known for being the tough smart grandma that raised President Barack Obama, and a trailblazer in her own right. Given the rural community they grew up in, it is likely that young Rosalie and Madelyn would have crossed paths.
Though this is just an interesting coincidence, Butler County, Kansas can be proud of its historic tradition of tough, smart grandmothers. Of course, grandmothers everywhere can be certain that they have the power to shape young lives for the better.