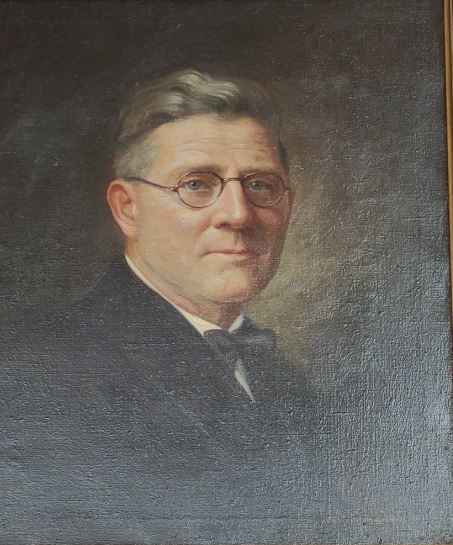 Richard Dillon O'Brien was born on August 16, 1874 in St. Paul, Minnesota to parents Christopher Dillon and Susan E. (Slater) O'Brien. He was educated in the St. Paul public school system and graduated from St. Paul Central High School in 1894.
O'Brien enrolled in law school at the University of Minnesota, but his legal studies were interrupted when he left to serve as a regimental quartermaster sergeant of the Fourteenth Minnesota Infantry in the Spanish American War. After serving, he returned to finish law school and graduated in 1900. His first job as an attorney was with the firm owned by his father, Christopher D. O'Brien, and his uncle, Thomas D. O'Brien, located in the Globe Building in St. Paul.
He led a distinguished political career as well as a legal one. Soon after joining his father's firm, he was elected to the St. Paul City Council, and then, in 1907, he was elected to be Ramsey County Attorney (an office that his father, uncle, and later, his brother, Christopher D. O'Brien, Jr., also held). During his tenure as County Attorney, Governor A.O. Preus also appointed O'Brien to the Board of Trustees for the Soldiers' Home.
As County Attorney, O'Brien oversaw many cases covering a variety of crimes, such as bank robbery, election fraud, and of course, murder. The most famous criminal case he tried was against Frank Dunn for the murder of his wife Alice, see 140 Minn. 308 (1918). The case was quite scandalous, as Mr. Dunn had apparently hired hit men from Kansas City to kill his wife because local criminals did not want to take the job.
O'Brien was a fervent advocate of abolishing the death penalty in Minnesota. The death penalty had long been a controversial subject since the death of Ann Bilansky in 1860. In 1906, the circus-like atmosphere of the botched hanging of William Williams (which led to his suffering for 15 minutes until he died), and the subsequent lawsuit against the newspapers that reported the hanging meant that the death penalty was at the forefront of Minnesota politics. O'Brien felt that the death penalty would have a negative impact on convictions due to moral objections that potential jurors would have against the death penalty.
O'Brien served as Ramsey County Attorney for 16 years until 1923 when Governor Preus appointed him to the Ramsey County District Court to replace Judge Louis Kelly upon his retirement.  Judge O'Brien served on the bench for the next 16 years until his death in 1939.  As an attorney and judge, he was known for his scrupulous preparation for his cases. At a memorial service, friends said that he was calm, had courage of conviction, and had a strong sense of justice.  His colleagues on the bench remembered his belief that "justice delayed is justice denied"; thus he strove to keep the court calendar up to date and to give all litigants a speedy trial.
In addition to his work as a judge, he also taught at the St. Paul College of Law. His area of expertise was criminal law and procedure. In 1937, he was elected to the law school's Board of Trustees.
On February 23, 1939, Judge O'Brien fell suddenly ill and died in St. Paul at a friend's home. He was buried in St. Paul, Minnesota. His wife, Edith, preceded his death, but he was survived by their four daughters.
Judge O'Brien's portrait was one of the 29 portraits of District Court Judges commissioned by the Ramsey County Bar Association in 1930. The artist, Edward Brewer, painted these portraits as well as the portraits of many prominent Minnesota families – the Cargills, the Daytons, and both Governors C. Elmer Anderson and Elmer L. Anderson. To see a very interesting photo of the artist Edward Brewer painting Judge O'Brien's portrait with the half-finished portrait displayed, please see Patricia Condon Johnson's article, "Edward Brewer: Illustrator and Portrait Painter" published in Minnesota History.
Sources:
Anne E. Cowie, "Two Horses and One Buffalo Robe: All the Frailties of Human Nature: The Ramsey County Attorney's Office and Its 150 Years", Ramsey County History, Fall 2000, Vol 35, #3, pp. 4-16.
https://publishing.rchs.com/wp-content/uploads/2015/11/RCHS_Fall2000_Cowie.pdf
Patricia Condon Johnson, "Edward Brewer: Illustrator and Portrait Painter," Minnesota History, Spring 1980, pp. 2-15.
http://collections.mnhs.org/MNHistoryMagazine/articles/47/v47i01p002-015.pdf
Memorial Services for Deceased Members of the Ramsey County Bar held at the Courthouse on April 8, 1939. http://www.minnesotalegalhistoryproject.org/assets/Ramsey%20Mem%20-%201939.pdf