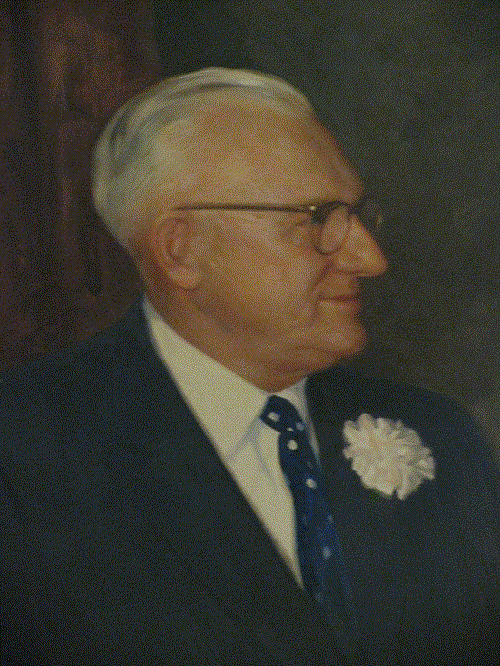 Royden Smith Dane was born on December 24, 1893 in the Minnesota Iron Range town of Biwabik.  He spent his youth working in logging and mining camps.    Here he learned to operate steam shovels and fire locomotives, and even held a boiler operator license for years.   Through his life he remained proud of his humble beginnings.
He entered the University of Minnesota, but left to join the Army when World War I began. After serving in this capacity for 18 months, he returned and entered the St. Paul College of Law.  He graduated in 1926 and was admitted to the bar that same year.  He spent 17 years in private practice before he was appointed as Municipal Court Judge in 1943.  He was elected to the Ramsey District bench in 1946 to fill the vacancy created by the resignation of Judge Hugo Hanft.  In 1956 he married Roseville teacher Fern Nelson.  Judge Dane suffered a heart attack in his chambers on February 4, 1959 and died four days later at St. Joseph's Hospital.  He was 64 years old.
Judge Dane was a colorful storyteller, plus an avid horse trainer and conservationist.  He kept a duck farm between Lexington and Victoria Avenues, between County roads E and F (present day Shoreview).  He was also active in the American Legion and the Veterans of Foreign Wars.  Shown in the painting wearing a fresh flower and a friendly smile, Judge Dane just might be the most handsome image in the judge portrait collection.  Having died in office, Judge Dane wouldn't have posed for a traditional portrait as part of a judicial retirement. The Law Librarian speculates that his portrait might have been based on a snapshot taken at his wedding three years earlier.
*******
SOURCES:
Bar Endorses Dane for Judge, St. Paul Dispatch, Oct. 1943
District Judge R.S. Dies, St. Paul Dispatch, Feb. 7. 1959.
Just How Does a Judge Relax?  St. Paul Pioneer Press, May 17, 1953