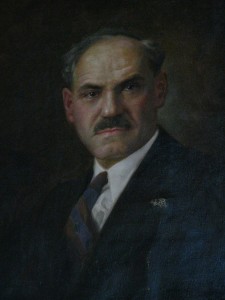 Gustavus Loevinger was born on March 4, 1881 in Ulm, Wurttemberg, Germany. His family immigrated to South Dakota in 1889, where he received his BA from Dakota Wesleyan University in 1903. He received his LLB from the University of Minnesota in 1906 and went to work as a law clerk in St. Paul the same year. He practiced law in the partnership of Heim & Loevinger from 1907 until 1931, when he was appointed to the Ramsey County District Court.
Judge Loevinger was loved by constituents and respected by the legal profession for his modern and progressive approach to the law. As a family court judge, he was against legal impediments to divorce and advocated that the realities of marriage be taught in schools. He also recommended that family court have a clinic to help users of the court system constructively resolve their domestic difficulties. He advocated a criminal probation system to put non-habitual offenders back on the right track in lieu of lengthy prison sentences, which he saw as an often-unnecessary taxpayer expense. He defended the criminal jury trial system at a time when it was under attack, stating that it was fundamental to the cause of liberty and justice, and that few criminal charges resulted in acquittal by juries. He also helped organize Minnesota's Farmer-Labor Party, a predecessor of the Minnesota DFL party.
In a particular case he heard as a District Court Judge, Loevinger soundly rebuked University of Minnesota for its role in a ring that involved it buying nearly 500 stolen dogs. This, plus heavy sentences given to the "dognappers" got him an outpouring of fan mail from constituents. In another case he ordered more than $1,000,000 in refunds to St. Paul telephone customers. After the death of U.S. Supreme Court Justice Cardozo, roughly 200 local attorneys signed a petition urging appointment of Judge Loevinger to fill the vacancy, which stated that "[h]is fearless honesty, his love of his fellow men and his sympathy for the underprivileged and oppressed, his respect for individual rights and his profound knowledge of the law qualify him for the high position…" (The Judge was touched by the gesture, but asked the committee to withdraw its petition.)
Judge Loevinger served as a District Judge until 1955, and died on August 28, 1957.
(Judge Loevinger's son, Lee Loevinger, became a chief of the Justice Department's antitrust division under President John F. Kennedy. He was also a member of the Federal Communications Commission, and an associate justice on the Minnesota Supreme Court.)
The Law Librarian extends a special thanks to the St. Paul Public Library and its excellent collection of historical newspaper clippings.
The Law Library has on display judicial portraits of past Second Judicial District Court judges, going back to 1857. If you have any information or commentary about Judge Loevinger, please leave a response or send us an e-mail. To view the portraits in person, visit us on the 18th floor of the Ramsey County Courthouse.