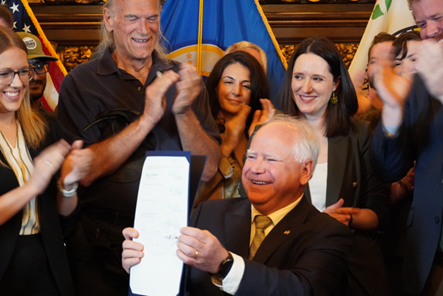 On May 30th, Governor Walz signed the cannabis finance and policy bill (HF 100) into law, which made Minnesota the 23rd state in the country to legalize adult use of recreational cannabis. Starting on Tuesday, August 1st people in Minnesota aged 21 and over will be permitted to possess, consume, and grow their own cannabis for personal use. The bill also establishes a new state agency, called the Office of Cannabis Management (OCM) to oversee the new recreational market, including business licenses; the OCM will also oversee the existing medical cannabis and hemp-derived markets.
Notable provisions include:
Legalizing the possession of up to 2 oz. of cannabis in public and 2 lbs. at home
Legalizing the use, possession, and transportation of cannabis paraphernalia
Legalizing the home cultivation of up to 8 cannabis plants (only 4 may be mature)
Automatic expungement of non-felony cannabis offenses
Creation of Cannabis Expungement Board tasked with possible expungement of felony offenses
Creation of the Office of Cannabis Management tasked with overseeing cannabis marketplace
The Ramsey County Law Library will be offering a CLE on the topic of Cannabis Law and Policy in Minnesota on Wednesday, August 9th from noon-1pm. Jason Tarasek, a long-time cannabis attorney with Vicente LLP, will discuss the evolution of cannabis law and policy throughout Minnesota and the United States. Jason will address the history of cannabis prohibition and the new legality of hemp, hemp derivatives, medical cannabis and adult-use cannabis. Please sign up here if you are interested in learning more about the legalization of recreational cannabis in Minnesota.