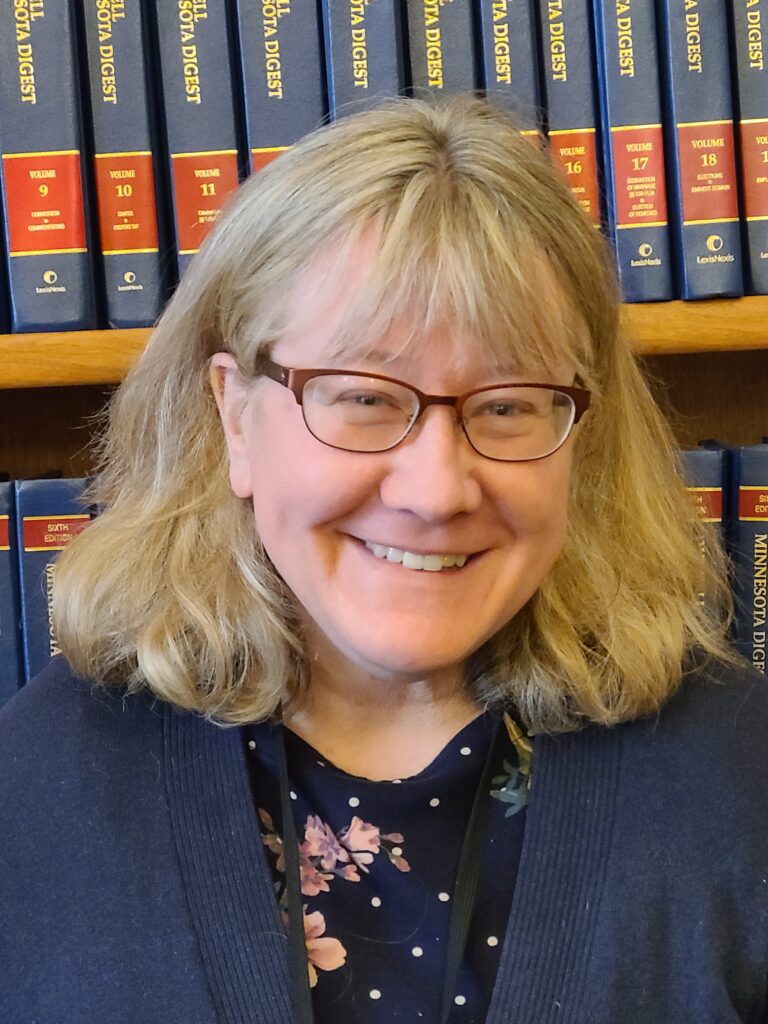 Today the law library would like to introduce our new director, Shannon Stoneking. Shannon started on April 18th, and she was previously the manager of the Dakota County Law Library. In her new position, Shannon will continue to work on making the law library a place where Ramsey County residents can receive help with their legal questions.
Shannon has had a variety of experiences that led her to Ramsey County. She spent twelve years in Scott County as a law clerk for both Judge Macklin and Judge Lennon. In fact, it was her researching for the judges that brought her to the law library. There, Scott County Law Librarian Mary Freyberg assisted her, and encouraged her interest in librarianship. Shannon enrolled in the Library and Information Science program at the University of North Texas. A few months later, an opportunity to move in the field of law librarianship presented itself, and with the encouragement of Mary Freyberg, Shannon took the plunge and applied. In September of 2013, Shannon became the manager of the Dakota County Law Library.
At Dakota County, Shannon was responsible for three locations, the main branch in Hastings, the Galaxie satellite branch in Apple Valley, and at the courthouse in West St. Paul. In her eight years at Dakota County, she created strong partnerships that improved access to justice for her patrons. Small changes such as hiring bilingual staff, creating clinics staffed by multilingual attorneys, partnering with the public library branch librarians to bring legal information for seniors were just a few of the programs that she initiated. During the pandemic, she transitioned into an online world where she presented CLEs via Zoom, and she provided legal information and research to remote users.
The librarians in Dakota County really appreciated the work Shannon did at the law library. Margaret Stone, Director of Dakota County Library said:
Shannon was a great partner in serving the Dakota County community.  She is a pleasure to work with, knowledgeable, professional, supportive to her staff and I always appreciated how she made public legal service a priority in her role.  Shannon worked hard to help people reach their best possible outcome through the many legal clinics she offered and her work one on one while staffing the information desk.  We will miss her; Ramsey County is fortunate to have Shannon as director of the Law Library.
Shannon comes to Ramsey County, energized and ready to continue where Sara Galligan left off.  When she is not working on access to justice issues or running the law library, Shannon is interested in philosophy (she majored in Philosophy as an undergrad at Providence College) and participates locally at the Socrates Café.  But if you really want to start a conversation with her, ask her about hockey.  She is an avid fan and player, and she frequently watches her three nephews play hockey.  She is a devoted Gopher Hockey fan and hopes to see the Minnesota Wild make a long run into the postseason. 
Please stop by the law library to meet Shannon! She is looking forward to meeting you.