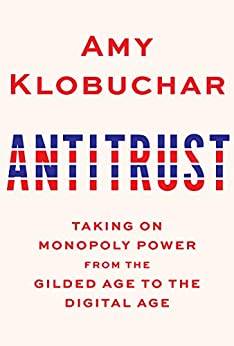 Amy Klobuchar, Antitrust: Taking on Monopoly Power from the Gilded Age to the Digital Age.  New York: Alfred A. Knopf, 2021.
Senator Amy Klobuchar has written a definitive, modern-day treatise on antitrust law. Not only does Klobuchar describe riveting instances of monopolistic abuse, but she also provides a scholarly and well-documented history of antitrust action "(and inaction)" in the courts and Congress. As the head of the Senate's antitrust subcommittee, Klobuchar is vitally interested in the topic and has proposed legislation directed at big tech and big business combinations (the "BIG"). By reining in BIG corporate power, Klobuchar seeks to strengthen competition, the Sherman Act, and, ultimately, workers' wages.
In her introduction, Klobuchar describes a medical event that arose in a Minnesota children's hospital regarding a drug used to treat newborn infants with heart defects. The cost of the drug had increased twenty times its original cost, creating an exorbitant burden for both families and hospitals. A cause for the spike in price, Klobuchar recounts, was the ability of the drug manufacturer to buy up its competition and create a monopoly on a critical heart valve drug for newborns. According to Klobuchar, "our current antitrust laws, at least as applied by the federal courts, were unable to check them." In a subsequent statement, Klobuchar explains: "That's why I have written this book." (p. 9)
While a compelling overview about antitrust may seem a challenging and daunting endeavor, Klobuchar doesn't shrink from the task and produces a 100-year history on the topic that offers a legal overview with specific cases arising from corporate America. She cites the Standard Oil Trust case as well as examples from Minnesota such as James J. Hill, the American railroad titan who consolidated multiple railroads across the country. Starting in the late 1800s, Congress enacted legislation to create competition, such as the Sherman Act (which prohibits agreements unreasonably restraining competition and monopolization), the Clayton Act (which prohibits all types of acquisitions that may substantially lessen competition), the Robinson-Patman Act (which prohibits certain discriminations in pricing and services), and the Federal Trade Commission Act (which prohibits unfair methods of competition). These statutes are enforced by the Antitrust Division of the United States Department of Justice, the Federal Trade Commission, state attorneys general, and private parties injured by antitrust violations.
Yet, according to Klobuchar, historic attempts to control anti-competition consolidation have met with federal court exemptions, political reframing of the need for antitrust regulation, and the growth of current corporate giants such as Amazon, Apple, Facebook, and Google. In her final two chapters, she defines a detailed action plan to reinvigorate antitrust policy. A major strategy involves creation of legislation that updates the nation's antitrust laws. However, she concludes that antitrust policy impacts everyone and is "a topic that can no longer be relegated to the realm of law schools and antitrust agencies; more citizens must start voicing their concerns about BIG to their elected officials so that those officials take it much more seriously." (p. 354) Klobuchar's book is a great first step in gaining a decisive perspective on the harms of monopolies and consolidated corporate power.
The law library has additional practitioner treatises on antitrust law. They include Callmann on Unfair Competition, Trademark and Monopolies, Kintner's Federal Antitrust Law, and Antitrust Basics. Titles also available on Westlaw include Antitrust Adviser, Corporate Counsel's Antitrust Deskbook, Corporate Counsel's Guide to Unfair Competition, Health Care & Antitrust Law, and many other titles.