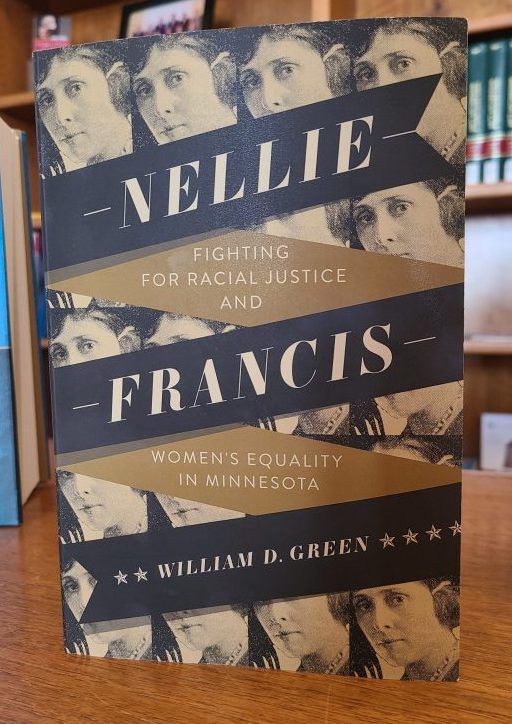 Regular readers of our blog will remember the announcement last fall regarding a CLE about Nellie Francis, a local civil rights activist who was instrumental in passing an anti-lynching law in Minnesota and who also worked to bring the right to vote to women. We are happy to report that the biography of Nellie Francis, written by Dr. William D. Green, Professor of History at Augsburg University, has been published and is available at the Ramsey County Law Library. This extensively researched book chronicles Nellie's story, telling us about her family, her friends, her activism, and historical context of the events in her life that influenced her.
Of particular interest is the information written about her family. Her grandmother, Nellie Allen Seay, for whom she was named, was a strong influence in her life – so much so that after her husband died of yellow fever, she moved back to Tennessee to live with her. Dr. Green also detailed information about other family members that were influential in her life, such as her mother, sister, and of course, her husband Billy Francis. Billy, like Nellie, was heavily involved with the local community, and was friends with Fredrick McGhee, a prominent St. Paul attorney. Billy eventually took over McGhee's law practice when McGhee died in 1912.
In addition to telling Nellie's story through the lives of her family, Dr. Green also writes about the people in her community. Nellie was a member of many organizations, such as the Everywoman Suffrage Club, the Red Cross Suffrage Group, the Booklover's Club and Social and Literacy Society of Pilgrim Church, and the National Association of Colored Women's Clubs, to name a few. But Professor Green also tells the reader about other prominent people she worked with in these groups. Not only did Nellie meet and work with both Booker T. Washington and W.E.B. DuBois, she met several U.S. presidents, including President Taft and President Harding. But she also worked with other women, like Clara Ueland and Mary Church Terrell, on civil rights issues and the women's suffrage movement.
Nellie's story is also told in the context of major events in Minnesota, the most infamous being the lynching of three Black men in Duluth in 1920. The next year, she helped to enact the state's anti-lynching legislation, which was passed on April 20, 1921. This well-researched book also describes the start of the restrictive covenants that were cropping up in Minneapolis and St. Paul and how it impacted Nellie and her husband when they tried to buy a house in a White neighborhood. (Neighbors offered them a thousand dollars to not move in. They did anyway.)
To learn about a remarkable woman and learn more about Minnesota history, as well as the history of important African Americans in Minnesota, please do read this new book, Nellie Francis: Fighting for racial justice and women's equality in Minnesota by Dr. William D. Green. This book is available at the Ramsey County Law Library.