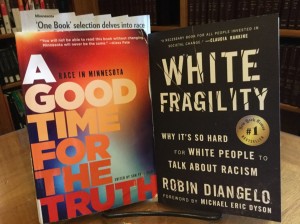 During July and August, the law library blog will feature titles on racism and racial equality.   These provocative and informative books reflect the challenges we all face.  They also describe perspectives and opportunities for change—and not necessarily through the court system.    Library users may check the books out by visiting the law library on the 18th floor of the court house.
This week's blog features the titles shown above.
A Good Time for the Truth: Race in Minnesota (2016) is edited by Sun Yung Shin.  The book is the current selection of the Minnesota Center for the Book's Statewide One Book One Minnesota book club.  The book contains 16 essays that give perspectives on Native persons as well as persons of color in Minnesota.  In the essay "Fear of a Black Mother," author Shannon Gibney explains her struggles trying to explain American societal challenges to both her young son and her Liberian husband—and her fears about an increasingly dangerous path for people of color.   In the essay "Disparate Impacts," by Taiyon J. Coleman, the author, who was raised in Chicago, offers her perceptions about microaggressions and microabrasions in Minnesota academia.
White Fragility: Why It's So Hard to Talk About Racism (2018) is written by Robin Diangelo, a white woman described in the foreword as "the new racial sheriff in town."  Diangelo explains that the way racism is taught makes it virtually impossible for white people to understand it.  The white worldview is simplistic and fails to perceive how racism evolves individually and in the community.  Fragility, according to Diangelo, arises when white people are challenged about racism—generating feelings of discomfort and defensiveness.  The result is a person's lack of insight or advancement.  Fragility also stems from an unconscious protection of white solidarity.  The result is a position that exempts a person from any responsibility for or participation in the problem.  Diangelo advocates exploring alternate racial experiences to challenge racism and to loosen white protection.  On a hopeful note, she states that the effect of white responses can be powerful if they interrupt racism through courage and intentionality.
The two books are available for loan.  The library invites comments or suggestions for other similar book titles.