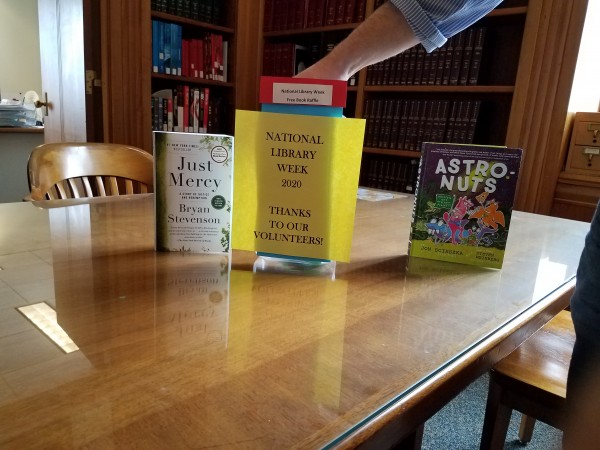 Although the law library is closed to the public, we still want to celebrate National Library Week with our annual book raffle. During our closure, volunteer attorneys continue to provide housing, conciliation, and criminal defense clinics via phone. As a small token of appreciation, the library raffled off 2 books–each going to one of our prize-winning volunteers. The library continues to provide email and phone reference and curbside book pickup for attorneys. Please call the library at 651-266-8391 for more information.
This year, we have two excellent books, Just Mercy by Bryan Stevenson.  Just Mercy is the memoir of Bryan Stevenson, civil rights attorney and founder of the Equal Justice Initiative, a human rights organization based in Montgomery, Alabama.  Mr. Stevenson has argued and won many cases, including a 2019 U.S. Supreme Court ruling that protects condemned prisoners who suffer from dementia and a landmark 2012 ruling that bans mandatory life-imprisonment-without-parole sentences for all children 17 or younger.  His book was recently adapted into a major motion picture.
Astronuts  by Jon Scieszka is the second book in our giveaway.  Jon Scieszka (rhymes with Fresca) is an award-winning children's book author, and has sold over 11 million books worldwide.  Astronuts is the start of a new series for children, and is illustrated by Steven Weinberg.  Mr. Weinberg was inspired by the art made available by The Rijksmuseum in Amsterdam, The Netherlands.  The Rijksmuseum has digitized and made their entire collection available to the world with no copyright restrictions.
We hope you are all reading interesting books and are staying safe during this time.