If anyone sees the new Martin Scorsese film "The Irishman," they will find an answer to one of the greatest missing person questions of all time: "What happened to Jimmy Hoffa?"  The film revisits one of the most corrupt periods in labor union history.  In 1967, Hoffa, who was president of the International Brotherhood of Teamsters (IBT), was targeted by U.S. Attorney General Robert Kennedy, and he received a jail sentence (or "going to school" in felon parlance) for numerous offenses.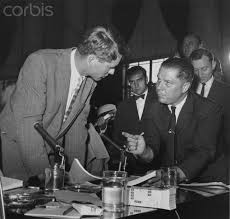 Hoffa's misdeeds included misuse of pension funds, racketeering, bribery, jury tampering, and mail and wire fraud.  His actions epitomized an era of organized crime culminating in the government's response in 1970 with passage of the Racketeer Influenced and Corrupt Organizations (RICO) Act.  Hoffa's political ambitions for regaining the IBT presidency are what got him killed, according to the film.  It appears this conclusion is likely but still debatable.
The IBT after Hoffa fared poorly, as far as government scrutiny is concerned. Probably the most important Civil/Rico labor racketeering case in history happened in 1988/89 in U.S. v. IBT when the federal government seized temporary operational control of the Teamster's Union under a consent decree to settle racketeering and corruption charges.  The legal action was brought by none other than Rudy Giuliani, who was then U.S. Attorney for the Southern District of New York.  Court supervision of the Teamster's ended in 2015 with a 5-year phase out agreement that should end this year.
The term "white collar crime" was coined by Edwin Sutherland in a 1939 speech to the American Sociological Association. In the past decade, white collar crime included corporate and/or government sector offenses such as bank, securities, and tax fraud, commodities and health care fraud, embezzlement, money laundering, and bribery. These exploits are certain to continue, with the additional appearances of obstruction of justice and election fraud crimes on the horizon.
The 6-volume title White Collar Crime owned by the law library is available in both print and online formats, provided by Thomson Reuters. The book covers all the topics mentioned here (and more), and it provides strategies for both the prosecution and defense, trial and evidentiary issues, ethics, attorneys fees, sentencing, and sample materials.  You can view the table of contents for this title via this link.  Better yet, come visit us in the law library and come use the book in person.