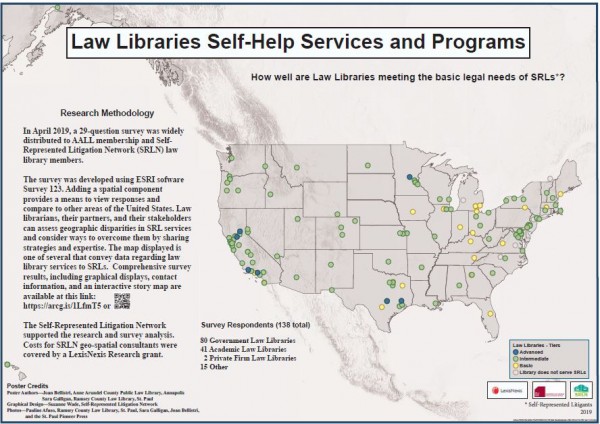 The Ramsey County Law Library is one of many public law libraries that assist the self-represented litigants (SRLs) across the country.  Strengthening services and programs for SRLs are valued public law library goals.  The map displayed here is one of several that convey data regarding law library services to SRLs.  Comprehensive survey results, including graphical displays, contact information, and interactive "story maps" are available at this link: https://arcg.is/1LfmT5 
Hopefully, this survey research and analysis will expand SRL services among law libraries by demonstrating best practices for assisting SRLs.  The information also describes important law library services for stakeholders, advocates and the public.  The research was funded by a LexisNexis research grant.
Highlights of the 2019 survey that measured services to SRLs are listed below:
Over 70,500 SRLs are served by law libraries in a month
Top Five Services Offered by Libraries

98% provide reference and research assistance and instruction;
93% provide publicly accessible space;
91% provide access to online court forms & instructions;
68% offer referrals to social services agencies;
68% create guides and pathfinders.

Top Five Technologies Offered by Librariea

94% provide Internet access;
93% provide computer access;
89% provide a copier;
86% provide WiFi;
86% provide computer printing.  Most libraries charge a fee for photocopies (94%) and computer printing (86%).

80% of law libraries have partnerships

60% with courts;
58% with legal aid groups;
55% with bar associations;
47% with public libraries.

23% of law libraries have a self-help center in the library
28% of law libraries have a limited advice clinic in the library
6% of law libraries have an attorney on staff (not a librarian with a dual degree – library science and law—or a librarian with a law degree acting as a reference librarian).  This characteristic defines law libraries at the advanced level of service.
26% of the U.S. population is within a 30-minute drive-time of a public law library that serves SRLs.
All (100%) libraries are within a 30-minute drive-time of some portion of low-income populations (defined as incomes below 125% of the Federal Poverty Level).
To learn more about services that county law libraries provide, come visit us on the 18th floor of the Ramsey County Courthouse, or view the full story map at the Self-Represented Litigants Networks website.