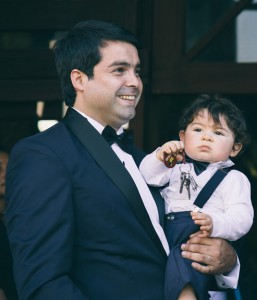 The U.S. Supreme Court has struck down a federal immigration law that favors mothers over fathers in determining the citizenship of a child.  The law in question, 8 U.S.C.§ 1409, created an exception which automatically granted citizenship to the child of an unwed mother if said mother resided in the U.S. for at least a year. In contrast, 8 U.S.C. §1401 requires the unwed father of a child to live in the U.S. for 5 years for the child to be granted U.S. citizenship. As Justice Ginsburg wrote for the Court, this difference violates the Constitution's guarantee of equal protection of the law. (She was joined by justices Kennedy, Breyer, Sotomayor, Kagan, and Chief Justice Roberts, with Justices Thomas and Alito filing a separate concurring opinion.)
You can read the entire opinion in the case of Sessions v. Morales-Santana, wherein Luis Ramón Morales-Santana was born abroad to unwed parents. His mother was from the Dominican Republic and his father was a U.S. citizen who had previously worked on a construction project there.  Morales-Santana's father fell 20 days short of the U.S. residency requirement for Morales-Santana to receive automatic citizenship at birth. Morales-Santana later came to the U.S. with his parents as a permanent resident, but the government sought to deport him in 2000 after he was convicted of several felonies. Morales-Santana challenged the citizenship law as unconstitutional sex discrimination, and Supreme Court agreed: The child of an unwed American mother cannot be granted automatic citizenship more quickly than the child of an unwed American father.
This post might just as appropriately be named "[U]nhappy Mothers' Day from the U.S. Supreme Court." The Court's recent decision is not a boost to fatherhood per se, but more specifically one to gender equality.  As this article explains, the Court's temporary fix was to strike down the special exception law for mothers, since it was not at liberty to establish the "exception to the rule."  Congress may opt to resolve this unconstitutionality in a way that is unfavorable for those in circumstances like Morales-Santana's.  And since the Court is only requiring that the corrected law treat mothers and fathers equally, resolution might mean extending this citizen-residency requirement for mothers, shortening it for fathers, or doing away with it completely.  You might recall the old 1971 case of Palmer v. Thompson, wherein the Supreme Court held that closing public swimming pools altogether was a constitutionally-acceptable alternative to racially segregating them.  The result was a long, hot summer for all.