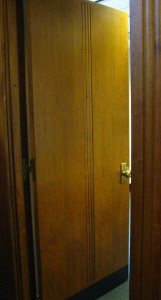 Anyone familiar with our work knows that we promote local criminal expungement resources. We host the Second Judicial District's criminal expungement forms clinic and also direct people to VLN's expungement seminars held throughout the community. By sealing eligible criminal records, expungement allows people get jobs or other opportunities that they couldn't otherwise.
That is why we took interest in the decision handed down last week by the Minnesota Supreme Court.  In the case of S.A.M.  v. State of Minnesota, the petitioner  plead guilty to second-degree burglary back in 2003, and this felony conviction was deemed a misdemeanor for sentencing under Minn. Stat §609.13.  Petitioner was released from probation less than three years later, having completed all court-ordered conditions.  He petitioned for expungement of this offense in 2015, almost immediately after Minnesota's expungement law was reformed. (To the casual observer, S.A.M. appeared to be the ideal expungement candidate:  With no other criminal history since the burglary, he had since gotten his bachelors degree, purchased a home, stopped drinking, stepped up to raise his child, and had long ceased contact with his co-burglars.) But the district court denied his petition, stating that he was ineligible under Minn. Stat. §609A.02, since he had not technically been "convicted" of a misdemeanor, and could not apply for expungement under subd. 3(a)(3) of the statute.  (Burglary is not on the list of expungible felonies, so S.A.M. could not petition under subd3(a)(5).)  The Court of Appeals affirmed.
The Minnesota Supreme Court analyzed the expungement statute and Minn. Stat §609.13.  Writing for a tight 4-3 majority, Justice Anderson concluded that the expungement statute and its "was convicted" language requires a court to look at a petititioner's status at the time he "was convicted."  S.A.M. was thus not entitled to seek expungement through the misdemeanor option.  It also held that the Legislature could not have intended for its incrementally-listed, successively harsher, expungement options to be upended by stayed impositions that get called misdemeanors only by virtue of Minn. Stat §609.13.  Justice Lillehaug wrote a forceful dissent, asserting that by the plain words of Minn. Stat §609.13,  petitioners felony conviction was "deemed to be for a misdemeanor."  He further wrote that the expungement statute created multiple "doorways" for seeking expungement, which are not themselves"destinations."  The law still required district courts to consider the severity of the underlying crime and any mitigating or aggravating factors.  And due to the ambiguity of the expungement statute, "was convicted" could just as easily be read through the lens of the "deemed" language of Minn. Stat §609.13.  Justice Lillehaug concluded with his hope that "the Legislature will clarify the expungement statute to reopen this door."
The impact of this decision could be huge.  An amicus brief in the case noted that district court judges across the state granted more than 26,000 stays of imposition from 2008 to 2012, but some of these might have involved otherwise-expungible felonies.  If you have ever read the expungement law and found it unclear, this decision shows that you are not alone. If you are interested in seeking expungement and not sure how this decision affects you, it is all the more reason to come to an expungement clinic and discuss your case with a lawyer.