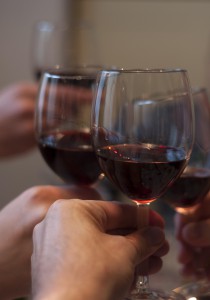 The time for holiday cheer is near, when we raise our glasses to a joyful time of year. And if our holiday toasts contain alcohol, someone will need to make a trip to the local liquor store, which in Minnesota cannot be on a Sunday.  Yes, the backup plan is often an emergency run to Wisconsin to buy the goods.  This year, however, Christmas and New Years both fall on Sundays, making it impossible to find a last-minute solution across the state border.  Minnesota is one of 12 states that ban Sunday liquor sales, as can be seen on the first map at this page.  Being surrounded by states that allow Sunday liquor sales, one could argue that Minnesota's law is an act of taxation goodwill to its neighbors.  After all, here is one day a week that neighboring states can collect liquor taxes from Minnesotans. (Here's looking at you, Wisconsin.)
Minnesota's ban on Sunday liquor sales goes back all 158 of its years.  The argument against such law is consumer convenience, of course. The argument for them is that small, locally owned liquor stores can compete better by having a day where they don't have to staff the store and still stay competitive. (Meaning: Would you keep shopping at Bob's Booze Barn if you could get exactly what you wanted on your Sunday grocery run to Trader Joe's?) We can expect the issue to arise yet again with the commencement of the new legislative session, and House Speaker Kurt Daudt believes this time it will pass.
Minnesota holds special prominence in the history of regulating alcohol consumption.  Remember that Minnesota congressman Andrew Volstead authored the legislation that would eventually become the Prohibition Amendment, which is why it was named the Volstead Act.  Volstead lost his congressional seat in 1922. Prohibition spanned from 1920 to 1933, ands after its repeal Minnesota created its own Liquor Control Department in 1933 to enforce its Liquor Control Act.  The department employed 12 agents in its first year, during which time Minnesota still had many dry counties, and alcohol bootlegging was a major enforcement concern.  Ironically, prohibition years also highlighted Minnesota with the production of Minnesota 13 by Stearns County farmers.  This was a distilled corn whiskey (i.e. "moonshine") that was renowned and coveted across the nation.