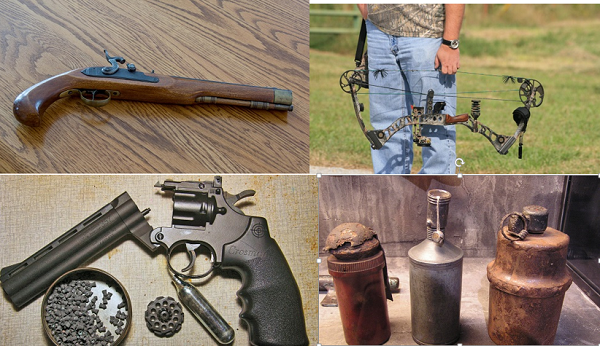 Here are pictures of some objects which could qualify as "dangerous weapons" under MN Stat. § 609.02 of the criminal code. They are (from top left) a flintlock pistol, a compound bow, an air pellet gun, and a liquid grenade (three of them in fact).  But (as sung on a popular children's television show) one of these weapons just doesn't belong here. Last week the Minnesota Supreme Court analyzed what kind of objects could actually be firearms, even though the objects might qualify "dangerous weapons."  In State vs. Haywood, the Court specifically examined whether or not appellant's BB gun qualified as a firearm under MN, because he had originally been convicted in Ramsey District Court under MN Stat § 609.165 for possessing a firearm which he was barred from doing due to his felon status. Now's it's time to play our game: Can you guess which dangerous weapon doesn't belong here, now that the Court has finished its song? (Hint: It's not the one that the Court gave special analysis to in Haywood.)
If you guessed that the  flintlock pistol is the only weapon here doesn't belong, then you are right! In applying the reasoning of Haywood, the compound bow, the canister grenades, AND the BB gun might all be dangerous weapons, but they are not technically firearms. Why? First, the Court held that it was not necessary to look at past decisions of whether or not BB guns were classed as firearms. And since the Minnesota Legislature had never bothered to officially define a firearm, the Court concluded it was appropriate to apply the plain meaning in defining a firearm.  Sources including Merriam-Websters Collegiate Dictionary ("weapon from which a shot is discharged by gunpowder"') and Black's Law Dictionary ("weapon that expels a projectile …by the combustion of gunpowder or other explosive") were consulted for their definitions.  The Court then concluded that appellant's BB gun was NOT a firearm, since it did not operate by a gunpowder explosion.  Strictly speaking, the bow and grenades would not be either.  The flintlock pistol WOULD operate via projectile and gunpowder explosion, and also has MN Stat § 624.712 defining it specifically as an antique firearm.
Of course, future legislative action or court decisions might present us with a different game to play, with entirely different answers.