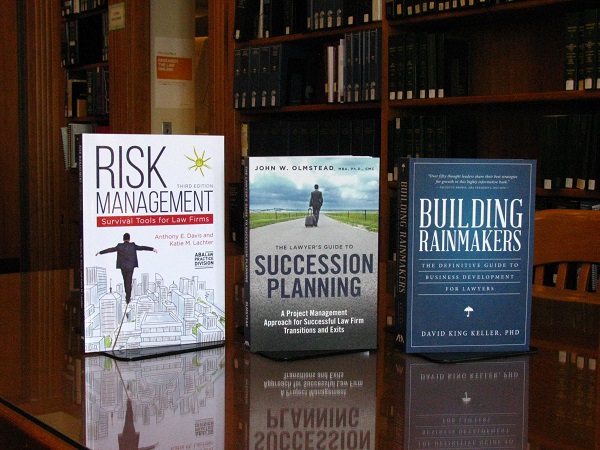 As the Law Librarian returns from vacation, it is amazing to behold the recent legal news in our community.  Last weekend we learned of the passing of local legal icon and former Ramsey District Judge Larry Cohen.  We also received news of the final breakthrough in the decades-long mystery of Jacob Wetterling's disappearance.  To properly acknowledge these recent happenings, we want to recognize the significant public service career of the late Judge Cohen, who also served as the mayor of Saint Paul.  We also wish to extend our deepest condolences the Wetterling family as their long saga reaches its sad close.
As the drum continues to beat steadily that legal markets and law practices are changing, be aware of some new books from the ABA that address these changes.  These books might be helpful tools as you chart the future course of your law firm, and avoid the hazards along the way.  We also remind you of our 80th Anniversary celebration and free CLE coming up on Monday, September 26, 2016, so checking out one of these books will be easy if you plan to attend.
 The Lawyer's Guide to Succession Planning: A Project Management Approach for Successful Law Firm Transitions and Exits by J.W. Olmstead. The purpose of this book is to provide guidance to all firms, but especially smaller ones. After examining the "silver tsunami" of senior attorneys headed for retirement in the near future, the book offers transition approaches and action plans for dealing with the inevitable departures. Case studies and sample agreements are included, as well as downloadable files of sample worksheets and agreements.
Building Rainmakers: An A to Z Guide to Business Development Training by D.K. Keller.  Business development is not a traditional legal skill, but nowadays it is a necessary one.  This book is essentially an encyclopedia of business development training tools for firm management, including tips and tools from interviews with business leaders and rainmakers of leading firms.
Risk Management: Survival Tools for Law Firms (3d Ed.) by A.E. Davis and K.M. Lachter. Significantly updated from its 2007 edition, this book covers recent sea changes in law that relate to technology, the financial crisis, and the rise of non-lawyers. Just "staying out of trouble" in the professional sense now involves much more than avoiding traditional malpractice and ethical snags.  This revised book now includes special guidance for risk management and due diligence in light of these new forces.