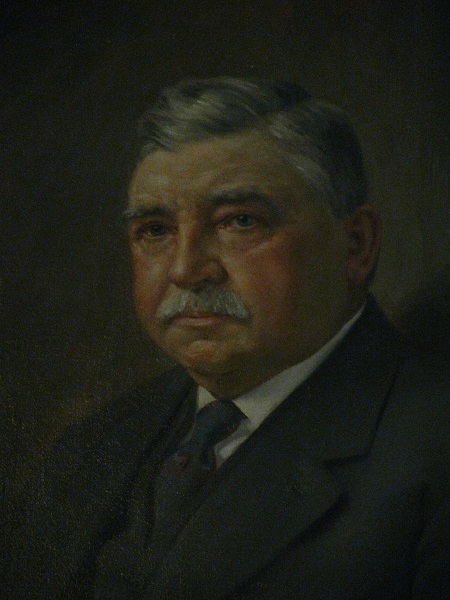 Charles C. Haupt was born on February 10 1854 in Wilkes Barre, Pennsylvania. His family moved to Michigan when he was ten. He attended the Franklin Marshall College in Pennsylvania and later "studied law" with S.C. Coffinberry at Constantine, Michigan. He was admitted to practice in Michigan shortly thereafter.  After he moved to Minnesota in 1882 he was admitted to practice here, settling first in Wilmar and later in Fergus Falls. He married Ida Trenchard of St. Paul in October of 1884, and their daughter Mary was born in 1888. He continued to practice law in Fergus Falls until 1902 when he was appointed by President Theodore Roosevelt as U.S. District Attorney for Minnesota, at which time he and his family moved to St. Paul.  According to an editorial published in the St. Paul Globe, Haupt was supported by Senator Moses E. Clapp in order to avoid the controversy of choosing between a candidate from either Hennepin or Ramsey County.
Minnesota Governor Burnquist signed legislation creating additional judgeships for the Ramsey County judiciary in 1917, and Haupt was appointed to the Ramsey County District bench in May of that year.  He was subsequently elected to that position in November of 1918. He was actively serving on the bench when he died on December 1, 1922. According to a Pioneer Press article from the next day, he was the judge in charge of multiple cases of taxpayers seeking assessment reductions.  He had been working on his decision when he was suddenly struck ill and died shortly thereafter.  It was predicted that his death would require retrial of twenty Ramsey County tax cases.  He is buried at Forest Lawn Memorial Park in Maplewood, MN.
*********
Sources:
"Bar to Honor Judge Haupt," Pioneer Press Saturday December 2, 1922.
"Did Him No Good:  Senator Clapp's Support of C.C. Haupt Not Considered Wise Move," St. Paul Globe April 28, 1902
History of the Bench and Bar of Minnesota, "Charles C. Haupt" p. 126 Hiram F. Stevens
"Many New Laws on the Statutes," Warren Sheaf. (Warren, Marshal County, Minn.) April 25, 1917
United States Federal Census 1900 (Accessed via Ancestry.com)