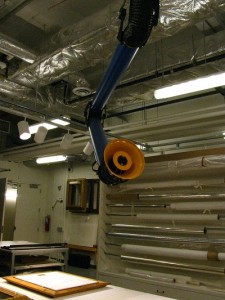 The huge, high-tech light pictured on the right is not part of a hospital- at least not in the traditional sense. This is one of the tools that one can see when they visit the Midwest Art Conservation Center (MACC). We paid a visit last week, where the last installment of our judge portraits were getting their state-of-the-art restoration treatment. This visit provided us a rare opportunity to see our judges up close, even under the microscope! The details of the portraits, including the canvases, varnishes, brush strokes, are simply unbelievable!  We also witnessed the painstaking process of cleaning each portrait, with hand-rolled cotton swabs. (Keep in mind that years of "smoking" had left a yellow-brown film on all of the gentlemen.)
Another interesting detail as to the history of the portraits was revealed during our visit. See the photo below taken on the back of a particular portrait indicating that Brewer entered it in the 16th Annual Exhibition of the Art Institute back in 1930. Is it possible that this was in fact the first of the portraits, which led Brewer to paint most of the others?
We would like to extend a huge thank you to Chief Conservator David Marquis and the other MACC staff for allowing us to visit the restoration in progress. Their informative explanation of the restoration process was most enlightening.  Until the portraits return to our walls, enjoy these pictures from our visit.