We know that modern habeas corpus law has its roots in the historical Magna Carta, but what is the role of habeas corpus in modern law? Who may petition for such a writ? What tools are available for seeking this writ and where are can they be found?  The writ of habeas corpus is clearly specified in both the U.S. Constitution (Article I Section 9) and the Minnesota State Constitution (Article I, Section 7). Minnesota statutory law specifically outlines the provisions for a writ of habeas corpus under M.S.A. §589. Basically speaking, "[A] person imprisoned or otherwise restrained of liberty, except persons committed or detained by virtue of the final judgment of a competent tribunal of civil or criminal jurisdiction, or by virtue of an execution issued upon the judgment, may apply for a writ of habeas corpus to obtain relief from imprisonment or restraint."  Conveniently, M.S.A. §589.05 even provides form language for seeking state habeas corpus relief.
Habeas corpus is probably more commonly  understood in its federal application, as a remedy for  a person in custody pursuant to a state court  judgment to petition the federal courts for relief, and who has exhausted all of their state remedies. This application of habeas corpus as a legal remedy provided under 28 U.S. Code §2254, plus its historical significance, is described in detail by the U.S. Supreme Court  in the case of Fay v. Noia 372 U.S. 391 (1963).  Forms to file for the different federal writs of habeas corpus (including §2254) are available at the website of the U.S. District Court of Minnesota.  This page offers two different habeas corpus petition packets (based on different sections of  U.S. Code), so one should carefully read the enclosed instructions prior to making their final selection.   If you are an attorney embarking on a habeas corpus filing, the library has some additional resources that might help.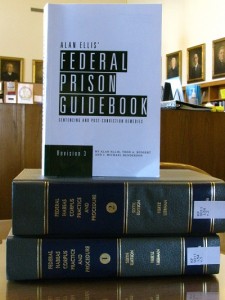 Allan Ellis's Federal Prison Guidebook (James Publishing 2015) by Alan Ellis et al. This is a book of programs and policies for 105 prisons, including educational, vocational, and apprenticeship opportunities, UNICOR, counseling and rehabilitation services, fitness and recreation facilities, religious services, telephone policy, accommodations in surrounding area, and much more.  There is an entire chapter providing guidelines for preparing habeas corpus motions.
 Federal Habeas Corpus Practice and Procedure (LexisNexis 6th Ed. 2011) by Randy Hertz and James S. Liebman  This is an authoritative and practical 2-volume treatise with practical advice and expert analysis from practitioners and subject matter experts.  The treatise and the accompanying supplement includes the latest habeas corpus case law as well as important statutory changes.
Of course, don't miss our Law Day event this Thursday (April 30) which will feature a special talk on habeas corpus.