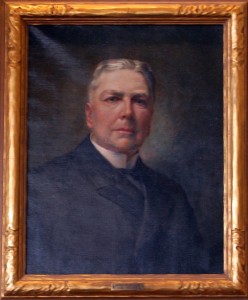 The Honorable John Willey Willis was elected to the Second District Court in 1892, succeeding the Honorable W.D. Cornish. 
Born in Saint Paul, Judge Willis attended Macalester College and received his AB from the University of Minnesota before completing an MA at Dartmouth.  In 1914, fifteen years after leaving the bench, Judge Willis received a PhD from Saint Johns University.
Judge Willis taught Latin and Greek at Saint Paul Central High School in 1878 and was President of Metro Council of Society of Saint Vincent de Paul. 
Judge Willish died September 12, 1925 in Washington D.C. while attending a convention for National Catholic Charities.
The Law Library has on display judicial portraits of past Second Judicial District Court judges, going back to 1857. If you have any information or commentary about Judge Willis, please leave a response or send us an e-mail.  To view the portraits in person, visit us on the 18th floor of the Ramsey County Courthouse.