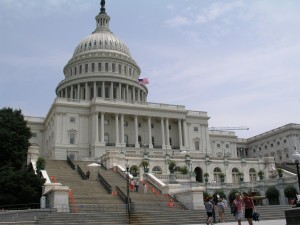 Perhaps this election season you would like to be a little more astute about your voting choices.  Rather than taking information from the vague blaze of election attack ads, become familiar with the free information available through Congress.gov.
As the official website for U.S. federal legislative information, this tool provides access to accurate, timely, and complete legislative information for Members of Congress, legislative agencies, and the public.  It is presented by the Library of Congress (LOC) using data from the Office of the Clerk of the U.S. House of Representatives, the Office of the Secretary of the Senate, the Government Printing Office (GPO), Congressional Budget Office, and the LOC's Congressional Research Service.
Congress.gov allows you to look at both legislation and members (plus their biographies) both present and back to 1973.  You can use the member feature to view not only committee assignments and legislation sponsored or co-sponsored by a member in question, you can also access remarks they may have made on the floor. Congressional records going back to 1996 are also available, as are links to congressional audio and video coverage.  If timeliness is essential to your research, Congress.gov is usually updated the morning after a session adjourns.  See also the new alphabetical Resources link if you are searching for an answer to a unique question.
Congress.gov is intended to replace THOMAS, which is nearing the end of its life cycle and will soon be retired.  In short, it will remain your federal legislative go-go link long after election season ends.