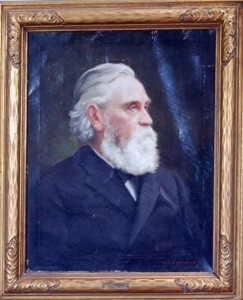 The Honorable E.C Palmer was the elected State Judge of the District Court at the first Minnesota state elections in 1857.  He remained the sole District Court judge until he was succeeded by Wescott Wilkin in 1864.  Prior to his election, Judge Palmer practiced as an attorney for the Sioux City Railroad and First National Bank, and in 1854 founded a law firm just ten years after Masterson and Simons founded the first firm in Minnesota.
Judge Palmer also served on Saint Paul's first Board of Education in 1856, when the board organized Saint Paul's first three schoolhouses, Washington, Adams and Jefferson.  Amid much controversy, the board spent nearly $24,000 to construct schools that offered more capacity than the city "would ever need."
During Judge Palmer's term as District Court Judge, he presided over a number of controversial cases, including the hanging of Ann Bilansky, the first woman executed in Minnesota.  This case brought capital punishment to the forefront in Minnesota, and ended with Governor Ramsey vetoing a bill to end capital punishment in Minnesota.
A noteworthy chess player, Judge Palmer would play concurrent games against multiple opponents to show his skill.
The Law Library has on display judicial portraits of past Second Judicial District Court judges, going back to 1857. If you have any information or commentary about Judge Palmer, please leave a response or send us an e-mail.  To view the portraits in person, visit us on the 18th floor of the Ramsey County Courthouse.