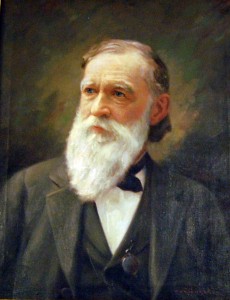 The Honorable Wescott Wilkin was elected as the second, and sole, District Court Judge in 1864.  Originally from the East Coast, Judge Wilkin studied the classics at Princeton and graduated from Yale Law School before entering private practice and serving as a Judge in Sullivan County, New York.
Judge Wilkin moved his practice to Minnesota in 1856.  His imprint can still be felt in Minnesota, as he appointed the commission that purchased land in Saint Paul that eventually became Como Park. 
A world traveler, Judge Wilkin embarked on a world tour accompanied by Judge Flandreau that took him to Europe, Egypt, India, China, and Japan. 
Wilkin County is named after his brother, Colonel Alexander Wilkin.
The Law Library has on display judicial portraits of past Second Judicial District Court judges, going back to 1857. If you have any information or commentary about Judge Wilkin, please leave a response or send us an e-mail.  To view the portraits in person, visit us on the 18th floor of the Ramsey County Courthouse.