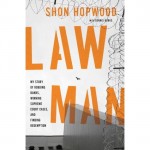 You may have recently read Shon Hopwood's story in the national news: After spending the late 1990's robbing banks across rural Nebraska, time and justice finally caught up with Shon Hopwood. At 23, he was facing federal Judge Richard Kopf for sentencing on robbery charges. Hopwood's appeal to the Judge for leniency was unsuccessful, for he wound up serving over a decade in a federal prison for his crimes.
Prison, however, was where Hopwood discovered the law library, as well as his own knack for legal analysis and application. He was a quick study, soon becoming the in-house go-to guy for various inmate legal needs. Hopwood's coup was preparing a petition for certiorari to the United States Supreme Court on behalf of fellow prisoner John Fellers. When the Court granted certiorari in a 9-0 against-all-odds decision, it started the chain of events that ultimately lead to Mr. Fellers' sentence being reduced by four years. Young Mr. Hopwood had clearly found his calling. Released from prison in 2008, Hopwood enrolled in law school at the University of Washington. Now thirty eight years old and the father of two small children, he is currently scheduled to graduate in 2014. He will then serve as a clerk for Judge Janice Rogers Brown of the U.S. Court of Appeals for the D.C. Circuit.
Both NPR and the New York Times have featured recent articles highlighting Mr. Hopwood's turnaround. Hopwood and his wife Marie have a personal blog here. (Their take on life is a decidedly Christian one.) Now semi-retired, Judge Kopf has evaluated the sentence he imposed on Hopwood in his own blog. (See Hopwood's own comment entry here as well.) Mr. Hopwood has also written an inspiring memoir of his turnaround: Law Man: My Story of Robbing Banks, Winning Supreme Court Cases, and Finding Redemption (Crown 2012 ). Law Man is here in our library and available for check-out.