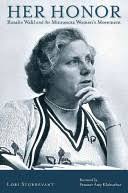 Be it judges or attorneys, there is nothing unusual nowadays about seeing women serve key roles in Minnesota's modern justice system.  After all, Minnesota even boasted the first state Supreme Court bench that had a majority of women.   Yet despite its Midwestern-progressive vibe, Minnesota has had something of a reputation in the past for dragging its feet where gender equality is concerned.  Our judge portrait collection visibly demonstrates this fact.  Another case in point- Coya Knutson was elected to represent her Minnesota district in the U.S. House of Representatives in 1954, where she served two terms.  From that point on, Minnesota never again elected a woman to Congress until the 2000 election of Betty McCollum.
With a forward by Senator Amy Klobuchar, Her Honor: Rosalie Wahl and the Minnesota Women's Movement (Minnesota Historical Society Press) covers not only the Coya Knutson story, but other eye-opening details regarding the  sometimes-slow progress of women in Minnesota law and politics.  For instance, the book speaks of a Gender Bias Task Force  of the late 1980s which discovered that judges and male attorneys often assumed that women attorneys were assistants or secretaries, made comments about their sexuality, and addressed them as "dearie," "ma'am" or "little lady."
This book is also treasure for anyone who simply enjoys Minnesota history, particularly the life of the late justice Rosalie Wahl.