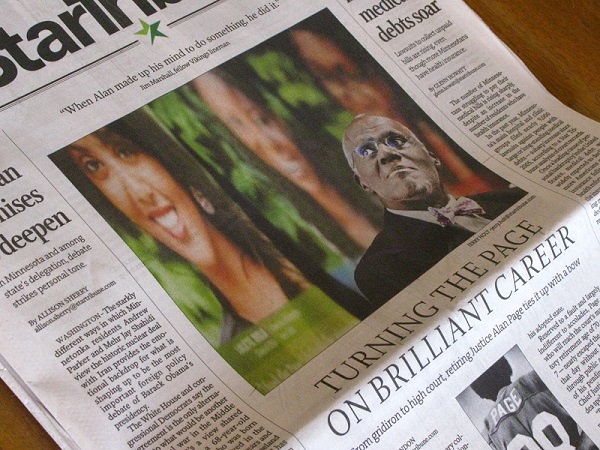 Following last Sunday's front page feature in the Star Tribune, now is the time to recognize Minnesota Supreme Court Justice Alan Page, who must  retire next month when he turns 70 years old.  (This is the mandatory retirement age for judges under Minnesota Statute §490.125.) From gridiron to gavel, the modest man in the grey beard and bow tie has truly had an inspiring career. On Minnesota's highest court, he has been known to bring "a common sense and a common humanity" that is mindful of the real people behind the cases.  (Consider his dissent in the 2013 case of  Dykhoff v. Xcel Energy wherein the Court overturned a workers compensation award involving slip-and-fall facts. Page's opinion speculated that the Court may be punishing the plaintiff for wearing 2-inch heels.)
Page dreamed of being a lawyer long before he ever seriously considered a football career. Growing up in Ohio's Rust Belt, he saw relatives spend decades in steel mills, and decided that the "Perry Mason" show depicted a more appealing existence. So while still in the middle of his 15-season football career (including MVP in 1971), Page enrolled at William Mitchell College of Law but dropped out after only three weeks. In 1975 he tried again, at the University of Minnesota Law School.   Page graduated in 1978, shortly before he was cut by the Vikings. (According to Encyclopedia.com, he didn't pass the bar exam on his first try, and this disappointed him more than any of his Super Bowl losses.)  After spending his last three NFL years with the Chicago Bears, Page retired from football in 1981. Having finally passed the Minnesota bar, he logged legal experience in private practice and the Minnesota Attorney General's office.   He won election to the Minnesota Supreme Court in 1992, after a controversial failure to be appointed by either Governors Perpich or Carlson.
Besides his position on the Court, Page has remained visible in other public arenas. The Page Education Foundation has distributed more than 6,000 college scholarships to Minnesota students of color since 1988.  He also wrote a children's book with his daughter, "Alan and His Perfectly Pointy, Impossibly Perpendicular Pinky." He and his wife's extensive collection of Jim Crow memorabilia harken a previous era, but his sobering talks with his four children about conducting themselves safely during unexpected police encounters have present-day relevance.  Page's next life chapter might be as page-turning as the previous ones, with more philanthropy and teaching being likely possibilities.
Do you have any special memories of Justice Alan Page?  Feel free to share them!