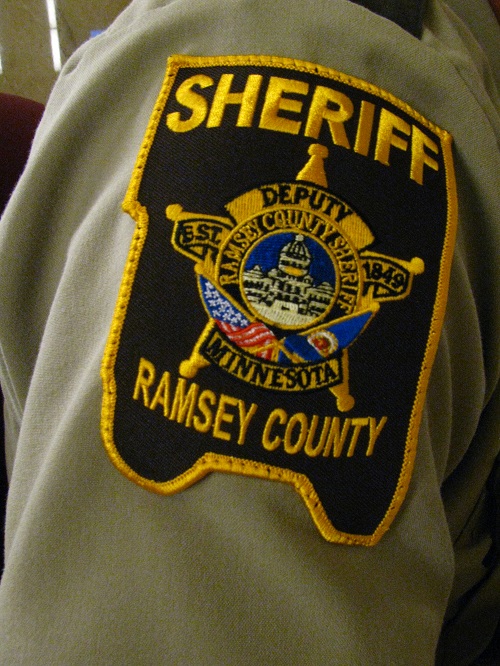 Once upon a time a Minnesota prize fighter retired from the ring and went on to become a beloved public servant. Maybe Tommy Gibbons was not the first name that first came to your mind. Nonetheless, his story is that of a man who was probably Ramsey's most colorful and charismatic sheriff. Born in St. Paul in 1891 to Irish immigrant parents, his heavyweight fighting career spanned from 1911 to 1925. Boxing became legal in Minnesota in 1915, and that change was heralded at the St. Paul Auditorium with a fight between local fighting boys Tommy Gibbons and Billy Miske. (Gibbons narrowly won.) One of the most visible moments of his career came in 1923, when he fought Jack Dempsey. He did much of his training for this event at his brother Mike's Rose Room Gym located in downtown St. Paul's Hamm Building.  He lost the decision after 15 rounds.  His final fight (a knockout loss) came two years later when he was 34 years old, against Gene Tunney. This event and concern for his health prompted him to retire in 1925.
Gibbons sold insurance for years before deciding to run for Ramsey County Sheriff in 1934.  By this time, many voters were feeling that the job required a heavyweight of sorts to clean up the local corruption and gangster activity. Gibbons was elected, and quickly developed a reputation as a tough, no-nonsense sheriff who wouldn't take deals. He served as the county sheriff for 24 years. His retirement in 1959 captured much attention, and even Jack Dempsey flew in from New York to attend the dinner. Gibbons died in 1960 at the age of 69.
This local story makes a good lead-in to highlight the positive work of local law enforcement, and specifically the services of the Ramsey County Sheriff's Department.  Their Warrants Unit processes all warrants issued by the Ramsey County District Court.  (Check out their warrants search page.)   Similarly, their Gun Permit Unit handles all new and renewal permits to carry firearm applications for the county.  They can also carry out a writ of execution from court if you are trying to collect on a judgment.  For residents of certain Ramsey County cities, the Sheriff's Department will provide a premise survey to evaluate the security of your property. (This service, which is available at no cost to residents and businesses of select Ramsey County cities, involves examination of window and door locks, patio and glass doors, lighting, shrubbery, and safety habits for possible security risks.)  Similarly, the Department is also happy to offer crime prevention presentations for your local group.
***
Sources: 
Sheriff Tommy Gibbons Retiring; Recalls Ring Days, Chicago Tribune, January 4, 1959.
Tice, D.J., Ringside Seat / Virginia Schweitz, Growing up in the Famous Gibbons Boxing Family and Working in Law Enforcement for Years, had a Unique Perspective on St. Paul's Raucous, Romantic Past, St. Paul Pioneer Press, June 27, 1999.
Tommy Gibbons, Boxer, 69, Dead, The New York Times, November 20, 1960.
Tommy Gibbons by George D. Blair,  Tom & Mike Gibbons Preservation Society Page,  http://www.tmgps.com/Tommy%20Gibbons%20Biography%20By%20George%20Blair.htm.